If you're feeling in need of inspiration, Instagram is the place to go with tons of amazing artists working in all kinds of media. As you will see there is no shortage of watercolor artists on Instagram either. Here is a selection of some of my faves.
Cesc Farre
www.instagram.com/cesc_farre_watercolors/
Cesc Farre is from Barcelona in Spain he obtained a scholarship from the University of Barcelona. Currently he combines his watercolor lessons as a teacher, courses and graphic expression workshops with national and international competitions and exhibitions.
Jean-Francois Arnaud
www.instagram.com/jfarnaud_painter/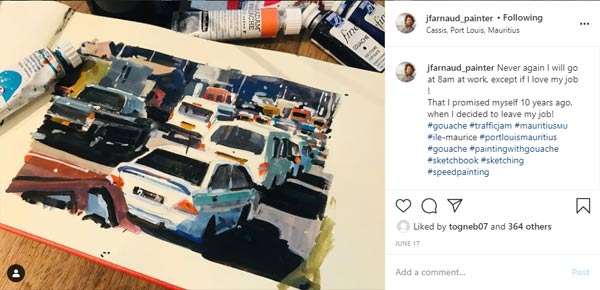 From Jean Francois' website: Paint the light to "give the impression". Paint to be part of the world. Paint to stay out of time and resist…
Azuma Syunda
www.instagram.com/azumasyunda/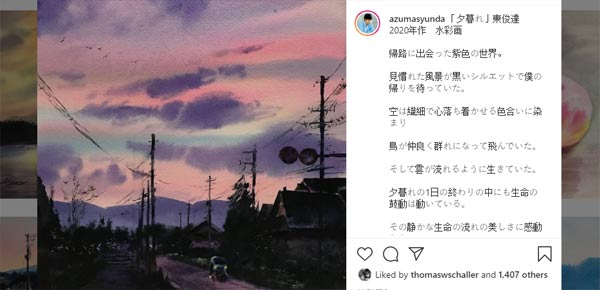 Marc Folly
Thomas Schwaller
www.instagram.com/thomaswschaller/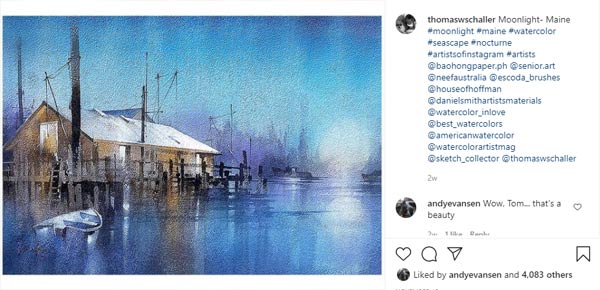 Thomas Schwaller is an architect as well as being an incredible watercolor painter. Not surprisingly his work tends to focuses on urban landscapes and architectural details all rendered with a wonderful dreamlike vibrancy.
Eudes Correia
www.instagram.com/eudeswatercolor/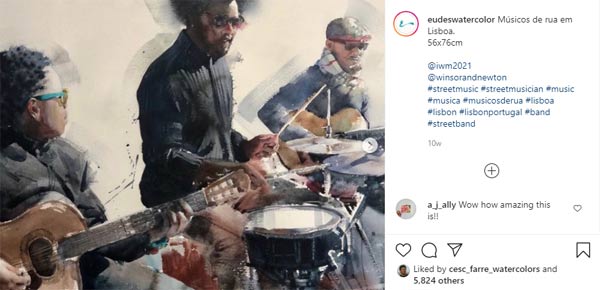 Eudes Correia is a brazilian watercolorist, based in Lisbon, Portugal. He began his art career as an illustrator and graphic designer Eudes unique expressive paintings transform and elevate the ordinary everyday people encountered on the street . Eudes has participated in exhibitions and workshops around the world. He is sponsored by Winsor & Newton Global.
Stephanie Boechat
www.instagram.com/stephanie_boechat/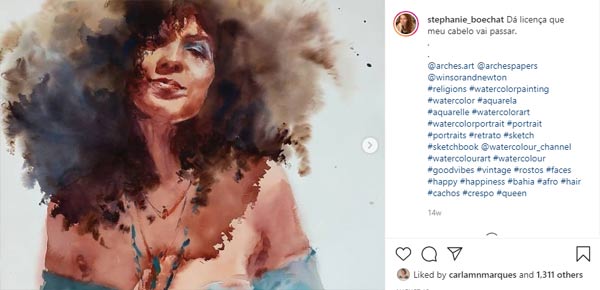 Alejandro Casanova
www.instagram.com/casanova_ale/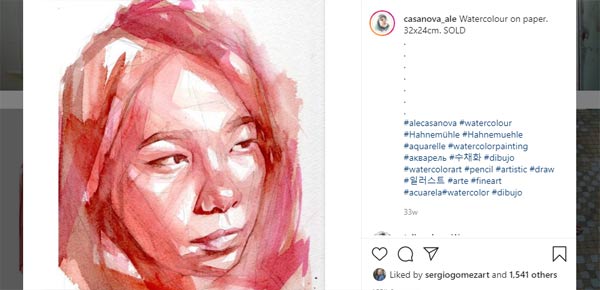 Alejandro's stunning and expressive work focuses on the human figure with portraits and full figures, male and female nude and clothed.
David Mceown
www.instagram.com/davidmceown/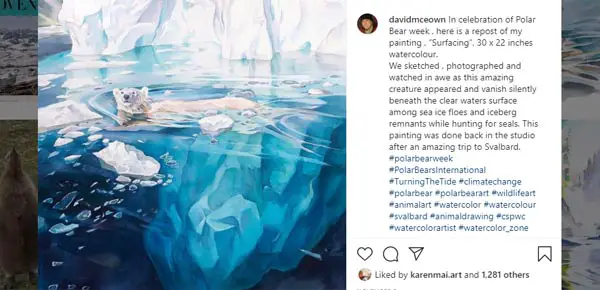 "Canadian artist David McEown has used the medium of watercolour for the past 30 years to explore and express many of this earth's wilderness areas. His paintings from Antarctica to the North Pole are represented in collections worldwide.
From David's website: David is a Fellow of the Royal Canadian Geographical Society, a graduate of the Ontario College of Art and Design and an elected member of the Canadian Society of Painters in Watercolour, which in 2005 and 2018 awarded him the society's prestigious A.J. Casson Medal. He is also a sought after teacher and has conducted workshops and multimedia presentations for numerous art societies and museums sharing his reverence for nature and passion for the creative act of painting.
Joseph Zbukvic
www.instagram.com/josephzbukvic/
From Joseph's website: Joseph Zbukvic is a leading master of watercolour medium of his time. His impressive achievements and enormous success is due to his ability to transform any subject into visual poetic language. Covering an infinite variety of subjects, his sensitive, lyrical and atmospheric paintings have captured people and galleries from all around the world.
Eva Vla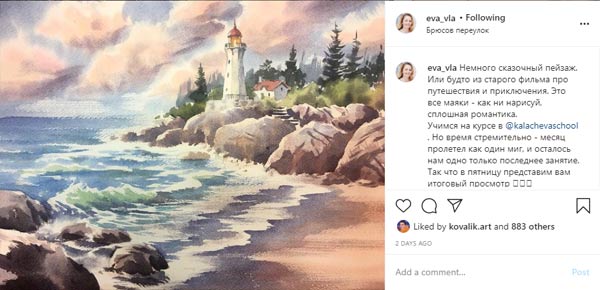 Sergei Kurbatov
www.instagram.com/sergei.kurbatov/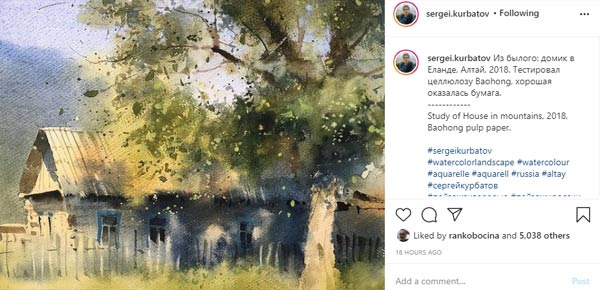 Andrey Kovalik
www.instagram.com/kovalik.art/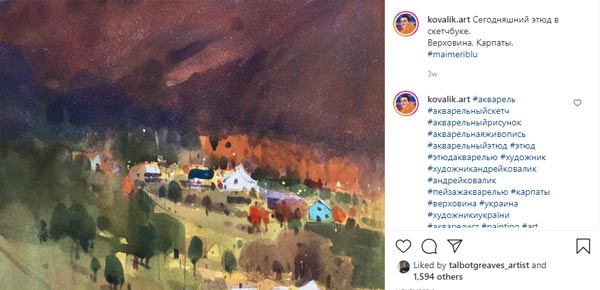 I haven't been able to find out too much about Andrey, as I can't read the language his profile is in, but I believe he is Ukrainian. You don't need to understand his language to enjoy his work though. Andrey has a wonderful color sensibility which he conveys through semi-abstract landscapes, florals and rural scenes.
Kelogsloops a.k.a. The Art Of Hieu
www.instagram.com/kelogsloops/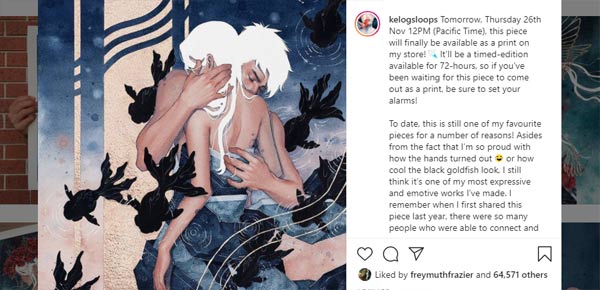 Hieu is an emerging Australian artist who goes by the alias kelogsloops. He specializes in both digital and watercolor paintings, often depicting female portraiture as his preferred subject matter of choice. His work blends abstract and surreal art styles with anime influences from his upbringing.
Michael Solovyev
www.instagram.com/michaelsolovyev/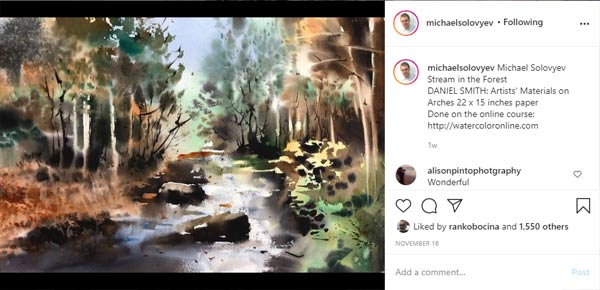 From Michael's website: Born in Russia in 1972, Michael has chosen Montréal as his home since 2011. From there, his works continue to add to the beauty and value of both public and private collections around the world, including Germany, Saudi Arabia, Australia, Italy, Portugal, Spain, Canada, the U.S., France, Poland, Russia, Switzerland, and Ukraine. He is a participant of 16 personal exhibitions, and more than 70 group exhibitions in different countries, winning multiple awards. He teaches art in the Syn Studio, a prestigious art school in Montreal, where he has more than five self-written courses. He also gives private lessons in his own studio and a lot of masterclasses around the world.
Andy Evansen
www.instagram.com/andyevansen/
From The Madeline School Of Arts Website:
Andy Evansen attended the University of Minnesota's commercial illustration program and has worked as a medical illustrator for 25 years, but longed for a return to fine art and eventually began watercolor painting.
His work gained recognition after winning an international watercolor competition through American Artist magazine and appearing on their cover in 2005. He's been featured in numerous other publications since, and has become a sought-after workshop instructor who paints and teaches internationally. His paintings have won numerous awards, including the Bronze Medal of Honor at the 2012 American Watercolor Society Exhibition and the Painters Award in Northwest Watercolor Society's 2012 Waterworks Exhibition, and in 2015 he received the High Winds Medal and his signature status from the American Watercolor Society.
Tim Wilmot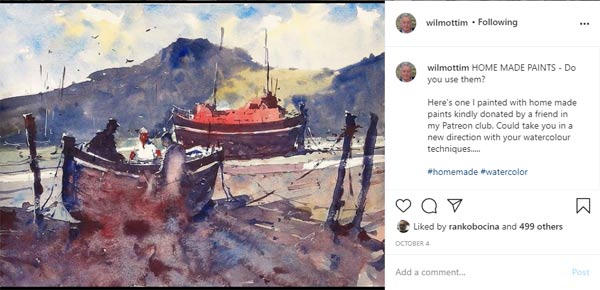 From Tim's website: I've painted on and off all my life.  I love watercolour.  Most people say it's the most difficult painting medium to use – after all if you make a mistake, that's it.  Do the same in oils, and you can paint over it.  So it's the challenge I think with watercolour to pull a painting off, but also it's about some of the unique things you can do with watercolour that is difficult or impossible with say oils.
Rukiye Garip
www.instagram.com/rukiyegarip/
Rukiye Garip is a Watercolor Artist from Balıkesir, Turkey
Olgabor Akwarel
www.instagram.com/olgabor_akwarel/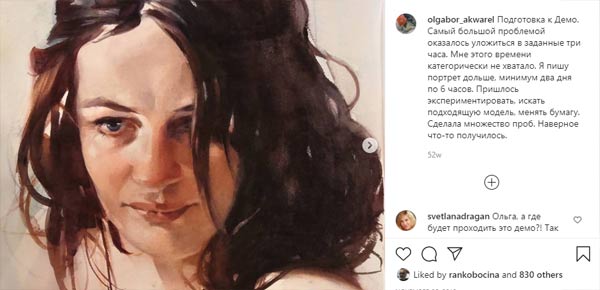 Marcos Beccari
www.instagram.com/marcosbeccari/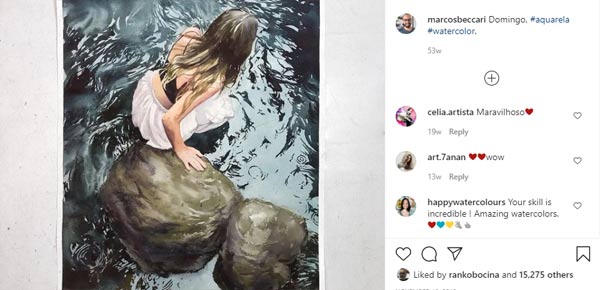 From Marcus' website: I am watercolor painter and philosopher. PhD in Philosophy of Education from the University of São Paulo, MSc in Design and graduated in Graphic Design, both from the Federal University of Paraná. I currently work as Adjunct Professor at the Federal University of Paraná, lecturing in the Graphic Design Course and in the Postgraduate Program in Design.
Ilya Ibraev
www.instagram.com/ilyaibryaev/
Avelino Art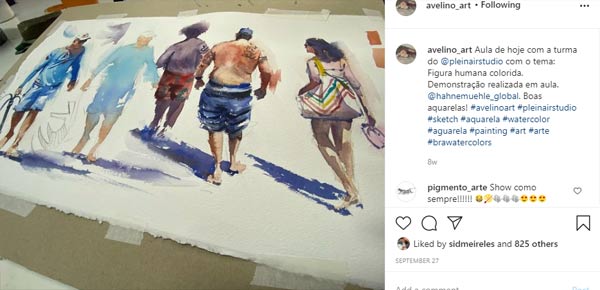 Ranko Bocina
www.instagram.com/rankobocina/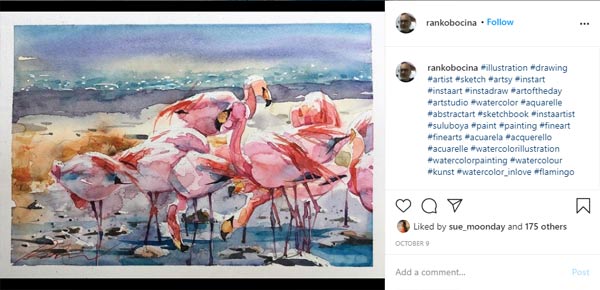 Peter Reuterberg
www.instagram.com/peterreuterberg/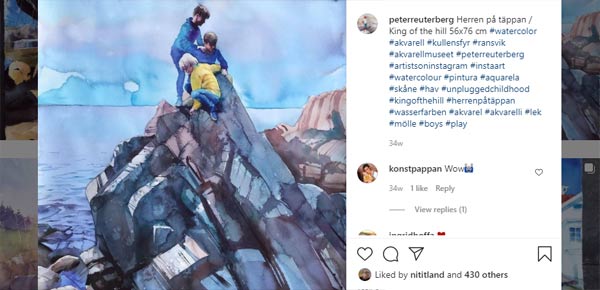 Chang Hong-Bin a.k.a Bearart