In this post I'll take a look at some painting techniques for painting simple cherry and apple blossoms in watercolor.
I will cover the following:
Color harmony
Wet in to wet painting
Painting with a bamboo brush
Painting with a Rigger brush
Materials List
Ultramarine Blue: Winsor & Newton | Daniel Smith
New Gamboge: Winsor & Newton | Daniel Smith
Burnt Umber : Winsor & Newton | Daniel Smith
Alizarin Crimson: Winsor & Newton | Daniel Smith
Rose Madder: Daniel Smith
Brushes
No. 2 Squirrel Hair Mop Brush Buy from Amazon
Synthetic Squirrel Flat Brush Buy From Amazon
Winsor & Newton Cotman 111 Round No.3 Buy From Amazon
Winsor & Newton Series 150 Bamboo Round #6 Buy From Amazon
Paper
Arches Watercolor Paper Block, Cold Press, 9″ x 12″, 140 pound Buy from Amazon
Miscellaneous
Easy release painters masking tape Buy from Amazon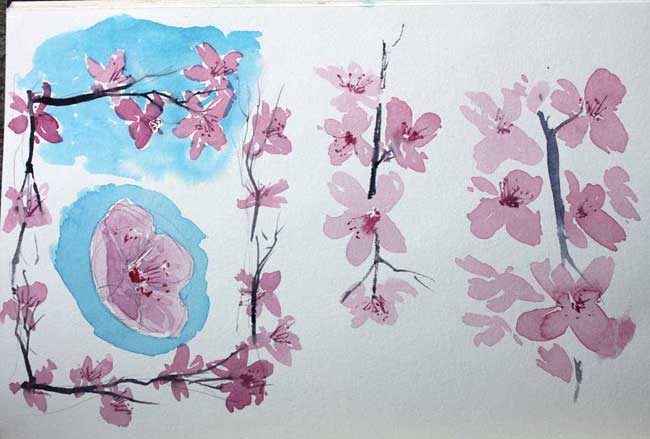 According to Wikipedia, A cherry blossom is a flower of many trees of genus Prunus. The most well-known species is the Japanese cherry, Prunus serrulata, which is commonly called "Sakura".
In Japan, cherry blossoms symbolize clouds due to their nature of blooming en masse, besides being an enduring metaphor for the ephemeral nature of life, An aspect of Japanese cultural tradition that is often associated with Buddhist influence.
How To Paint A Simple Cherry Blossom.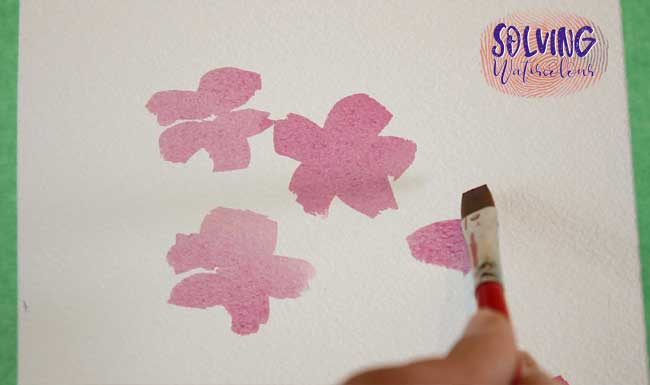 Cherry blossoms have a very regular shape and a geometric appearance. There are five pink petals radiating around a central pistil with crimson stamen filaments. A small flat brush is ideal for making petal shapes. Practice making a series of five petalled shapes with the flat brush and pale washes of Rose Madder. Group them together in tight clusters.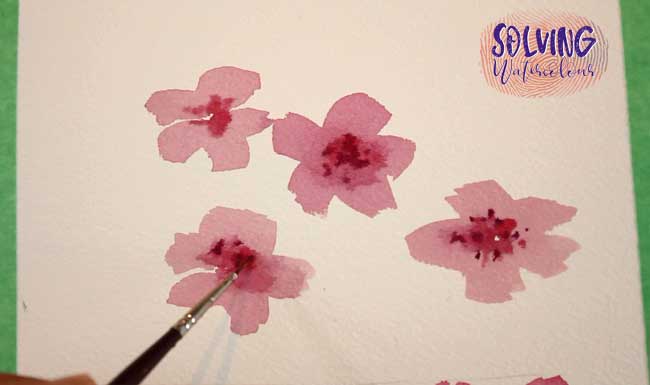 Once you have your shapes and before they are completely dry simply drop in some Alizarin Crimson. The Alizarin Crimson should be of a "Cream" consistency rather than just a thin "Tea" consistency as I really want the color to mostly stay in place but with a slight fuzzy blur but not completely blend into the blossom shape.
Painting Cherry Blossoms And Tree Branches
When seen from further away, cherry blossoms can appear more like clusters of pink balls of cotton wool. I'm going to paint them this way and add some branches this time.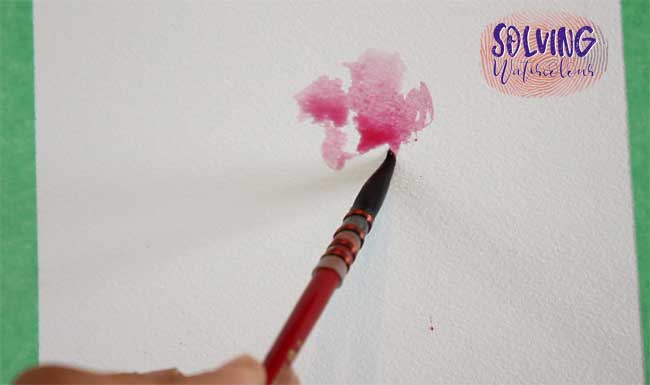 I'm using a small mop brush this time to make irregular roundish shapes with Rose Madder and as before I use a small round brush to drop in some Alizarin Crimson.
Alizarin Crimson, is a red which leans to the cool side of the color wheel. As color moves into shadow it becomes darker and bluer. If you look on the color wheel below, you will see that the color adjacent to red is violet and it works rather well for the dark centre of a cherry blossom.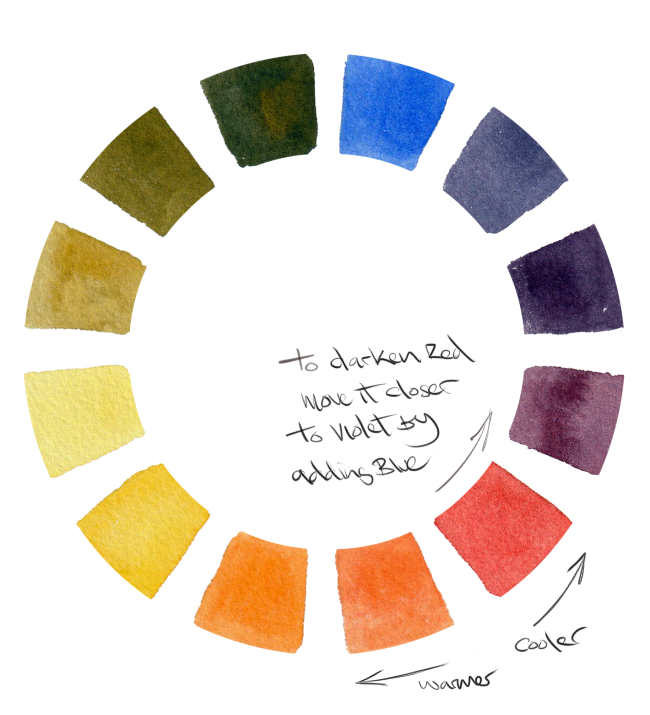 I like to rehearse and experiment a bit before beginning a painting. I created a similar color by adding a little Ultramarine Blue to Rose Madder and I also tried some Dioxazine Purple but these ended up being a bit too cool. Alizarin Crimson seems to have just the right balance of vibrancy and coolness without leaning too far that way.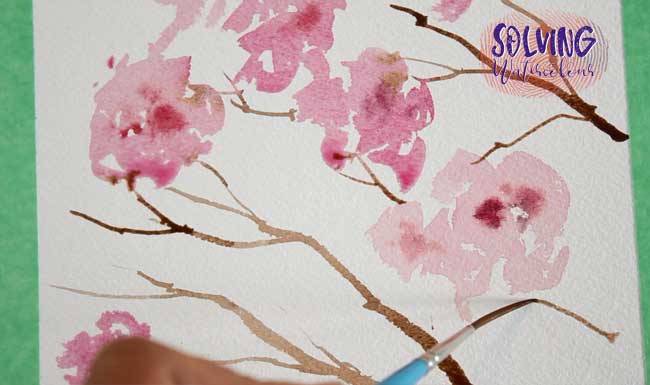 For the branches I used a Rigger brush. The rigger's long thin bristles are perfect for tree branches, grass and any kind of thin spidery lines. My tip for using a rigger, is to hold the brush fairly loosely, near the end, as opposed to gripping it tightly with your fingers close to the ferrule.
Holding the brush in this way, I find, allows you enough control but allows the brush to do it's own thing to a certain degree. This creates a much more natural organic looking line.
How To Paint Simple Loose Apple Blossoms Step By Step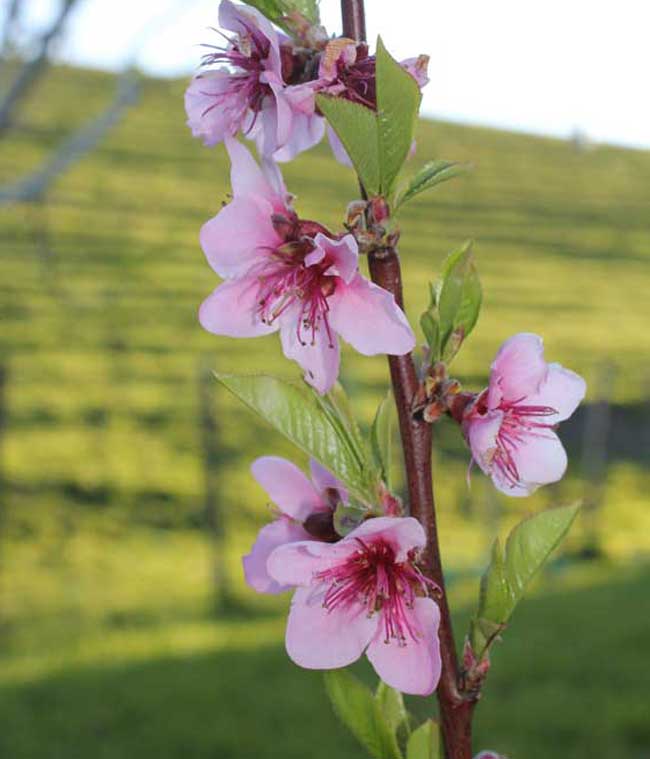 The photo of apple blossoms in my garden above was the inspiration for the following painting. As you can see, apple blossoms are very similar to cherry blossoms the shape of the petals are a little different but the color is very close.
Painting With A Bamboo Brush
In order to keep the whole painting loose and simple. I chose to use just one brush, my bamboo brush, to paint the whole thing. This type of brush practically demands that you paint loosely with it, as the natural hair is very floppy and works very well for broad loose brushstrokes and not so well for tight precise details.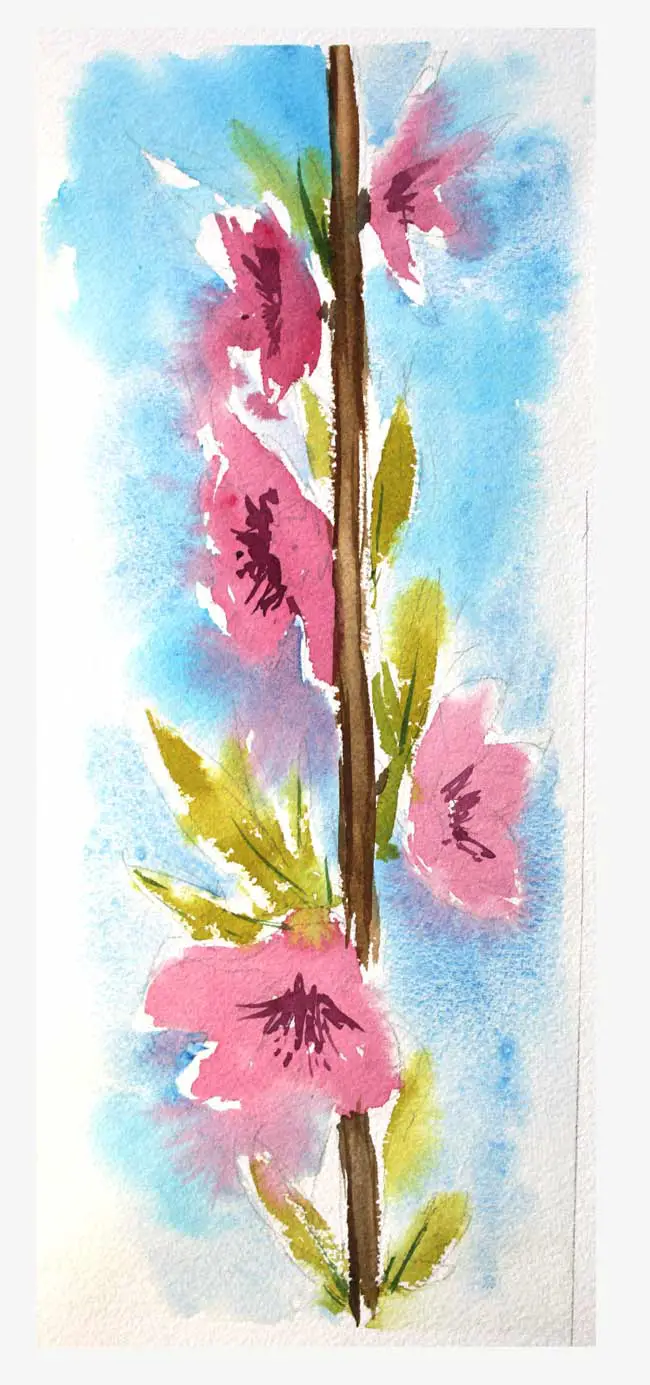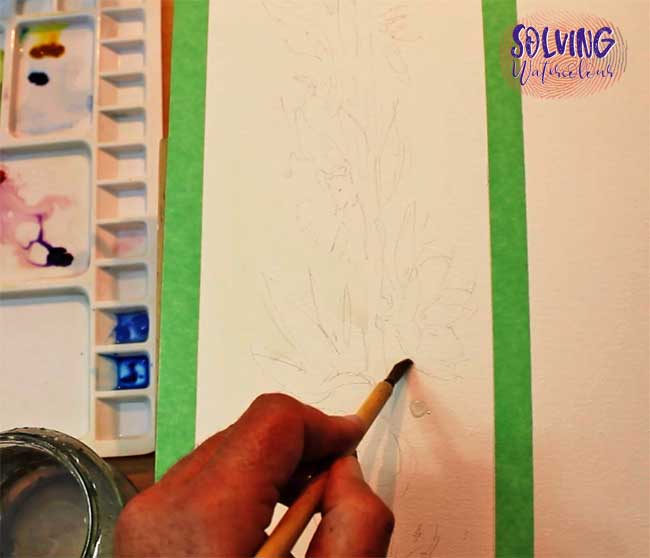 The first step after drawing the initial sketch was to wet the paper around the sketch. This will be the wet in to wet sky.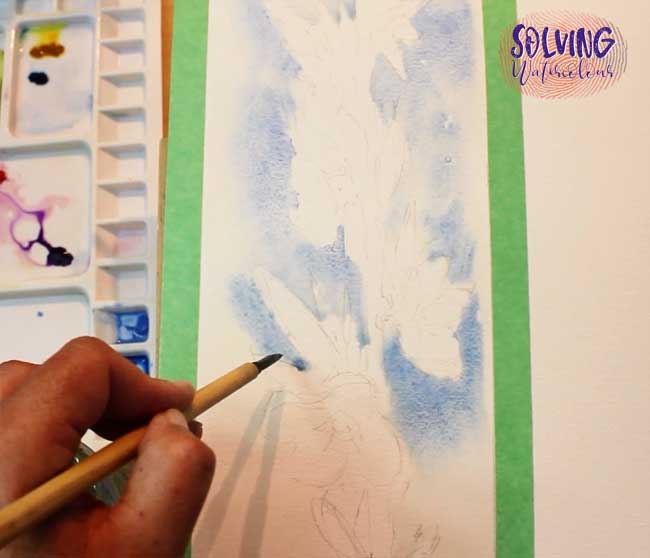 I used Cerulean Blue and painted in the sky first, allowing the paint to blend out around the edges, creating a blurry vignette effect.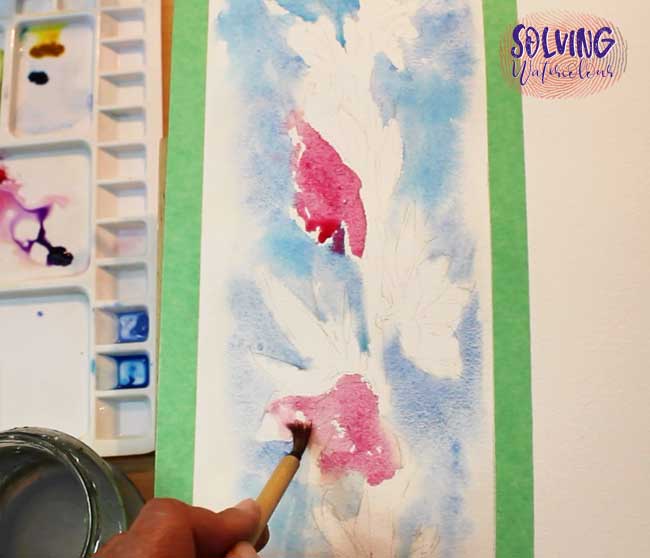 While the sky was still wet, I began to paint the blossoms with Rose Madder. I'm deliberately allowing some of the Rose Madder to touch the wet sky in selected areas. Where it touches, the Rose Madder bleeds in to the sky. It's important not to overdo this as it could easily get out of control.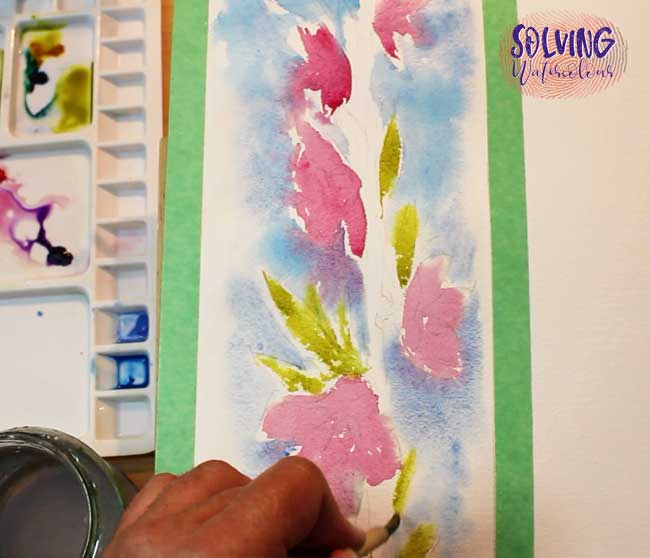 The next step was to paint the green leaves. I mixed a bright vibrant green from Prussian Blue and New Gamboge. Again, at this stage the paint is still wet and a few bleeds occurred which I just allowed to happen.
Watercolor painting is just a series of intuitive decisions. Many of those decisions have to be made quite quickly, on the fly as the medium is so fluid and never completely under your control.
I felt that I had enough wet in to wet blending and bleeding at this point adding more might be overdoing it. So due to time constraints, I used a hair dryer to get the painting thoroughly dry. Once a painting is dry it's stable and no bleeds and runs can occur.
For the final steps of painting in the branch and the stamen filaments, I felt these would work best as clean hard edged shapes.
For the branch, I used a mix of Alizarin Crimson, Burnt Umber and Ultramarine. When this was almost dry I lifted out a section from the branch to create a highlight running down the centre.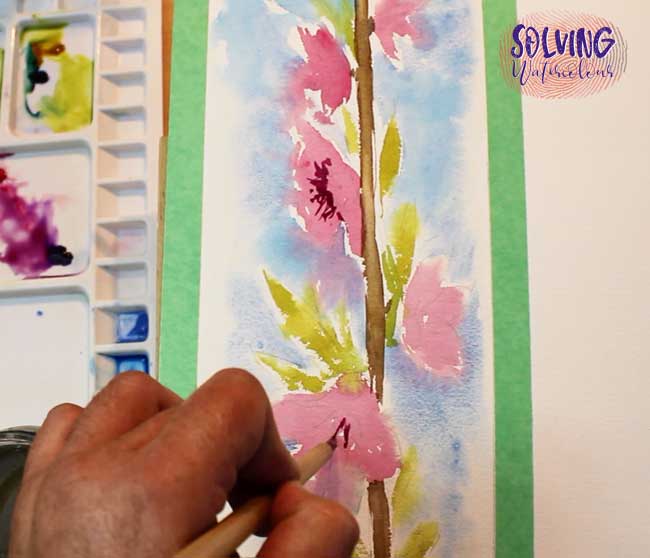 Paint Your Own Apple Blossoms
Of course you don't have to follow my process to the letter. You may want more or less wet in wet blending to occur, so feel free to experiment.
The final step was painting in the centre of the blossoms with Alizarin Crimson.
If you'd like to have a go at this painting yourself. Feel free to use my apple blossom photograph. There is no copyright restriction on it. If you do and you want to send me pic, I'd love to see the results! Contact me here.