In this post, you will learn how to use ink and watercolor paint. We will look at how to use dip pens , markers, technical pens and the various types of ink.
Ink and watercolor painting, also known as "Ink and wash", or "Line and wash" are two media that have long gone hand in hand with each other. Using ink drawing techniques in your painting can add a whole new dimension to your artwork.
In this post, I'll demystify the subject with an in depth look at the methods and technical aspects of this style of art.
Lets jump right in and answer some of the most commonly asked questions about ink and watercolor.
Should You Ink Before Or After Watercolor?
Inking before, or after applying watercolor can both work perfectly well. It depends upon your preferred artistic style. Starting with an Ink drawing would tend to be the more structured approach, whereas putting down paint first may appeal to those with a more loose improvisational style.
Artists In the 19th Century, initially used watercolor purely as a method of tinting their pencil and ink drawings. Artists such as J.M W. Turner (1775 – 1851) began to take a more experimental approach. One of these was to add ink over the top of the painting. Soon, both methods started to be employed.
Pros & Cons Of Inking First
Pros
Gives you a visual framework. i.e it's easier to see where to put your washes
Cons
You can't use water soluble ink without it bleeding and running. Restricts you to waterproof India Ink or permanent marker.
Feels a bit restrictive. Can lead to a "Coloring in" mentality.
Pros & Cons Of Watercolor First
Pros
You can be more free and easy with your watercolor washes
As long as the paper is dry, you can use either soluble or non-soluble ink
Cons
Without the structure of lines, the end results can be unpredictable.
What Is The Best Type Of Pen To Use With Watercolor?
It's possible to use just about any kind of pen with watercolor. I've used Dip pens, Fountain pens, Markers, Rapidograph style technical drawing pens but I would tend to avoid using cheap ball point pens as the quality of line that they produce is not very consistent or expressive.
Let's take a look at the some of the pros and cons of the pen options you have when learning how to use ink and watercolor.
Traditional Dip Pens
A traditional dip pen is simply a pen which has interchangeable nibs. The nib has a small depression which acts as a reservoir that can hold a few drops of ink enabling you to draw or write with it.
Pros
Inexpensive: The nib holder is basically just a wooden or plastic shaft with a metal grip on the end in to which pen nibs can be inserted. The nibs themselves are quite inexpensive too.
Expressive: You can vary the line width considerably depending upon the amount of pressure you apply
Versatile: There are many different types of nibs available that give different line characteristics. Some are suitable for drawing some are more suitable for calligraphy.
Easy to clean: The nib can easily be removed and cleaned with isopropyl alcohol or soap and water.
Cons
Small ink reservoir: You have to constantly stop and dip the nib to replenish the ink. Though you can get little clip-on reservoirs which attach to the nib to increase the amount of ink they hold, it's still pretty small though.
Difficult to use: Dip pens can be difficult to control. They take a bit of breaking in and tend to be scratchy .
Messy: Blots and splatters are a common occurrence.
The websites below have excellent guides to the different kinds of dip pen nibs that are available and their uses.
https://www.mirabellemakery.com/blog/guide-dip-pen-calligraphy-nibs

https://www.jetpens.com/blog/the-best-nib-and-nib-holder-combinations/pt/763
Fountain Pens
Although it's usually thought of as a writing implement rather than an art tool, a fountain pen offers a lot of potential for drawing. The nib of a fountain pen isn't particularly flexible but you can still get a lot of expression into your lines. A fountain pen is reusable of course and is fairly easy to maintain.
Watercolor artist Artist Liz Steel uses a fountain pen in her beautifully expressive work and has written a number of interesting articles on using them. Here's the first article in the series.
Technical Drawing Pens
Technical drawing pens have narrow tubular tips and are typically used by architects and engineers for draughting plans and schematics. They are designed to produce lines of a consistent width (This tends to range from 0.1mm to 1mm).
Technical pens such as the Rotring Rapidograph use ink cartridges, waterproof drawing ink and have interchangeable nibs which screw into the barrel of the pen. They are also often used by artists for fine details and for various drawing techniques such as "Stippling" and " Cross Hatching which I'll come back to later.
Pros
Large ink reservoir: This is an advantage as you don't have to constantly stop and start.
Easier to use than dip pens: Technical pens produce smoother lines and aren't nearly so scratchy.
Consistent: Technical pens deliver a precise line width.
Versatility: Unlike dip pens, technical pens can easily be used with rulers guides and shape templates to create borders and lettering etc.
Reusable: Unlike disposable markers, they are refillable you don't have to constantly keep buying new pens.
Cons
Expensive: A full set of nibs and pens is a very costly investment, but you probably don't need to buy them all. You could have just one pen and a few different nibs.
Fiddly and difficult to clean: The narrowest gauge Rapidograph style technical pens contain tiny wire filaments the width of a hair. They are very easy to render useless if you are not incredibly careful when cleaning them.
Non expressive line: For an artist. The unvarying line width that a technical pen provides may feel rather sterile. It all depends on the results you are trying to achieve.
See the link below for a great resource on choosing technical pens
https://www.jetpens.com/blog/the-best-technical-drawing-pens/pt/436
Marker Pens
There are many types of permanent and non-permanent markers that you can use with watercolor, including Fineliners, Gel Pens, brush pens
they come in a wide range of shapes, colors and thicknesses.
Pros
Ease of use: Marker pens are disposable and don't require any maintenance.
Inexpensive: Markers are cheap to buy and are available from most stationery stores.
Cons
Short life span: Markers dry up with quickly if you are using them regularly, so they may not be economical in the long run.
Inexpresive: The lines they produce tend to be quite uniform and lacking in expression. Although brush pens do a reasonably good job of replicating the look of brush strokes.
Choosing The Right Paper For Ink & Watercolor
A 100% cotton hot pressed watercolor paper such as Arches will give you the best results for the combination of watercolor and ink.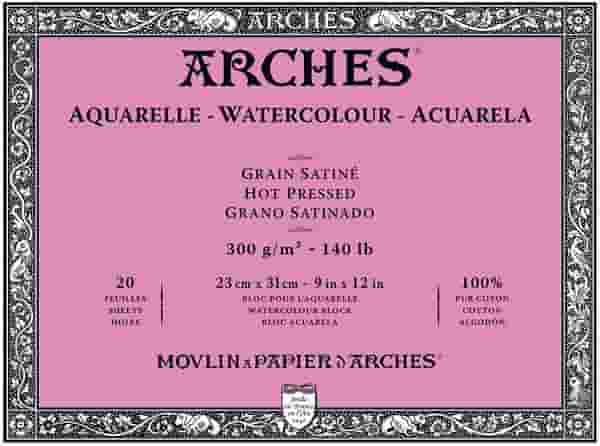 The standard texture of watercolor paper called "NOT", is of a medium roughness and that can cause problems, especially with dip pens as the pen tends to catch in the rough indentations of the paper.
NOT textured watercolor can be quite hard on fineliner and maker pens too. Hot Pressed watercolor paper is much more suitable, as it is completely smooth.
You can of course use any kind of paper for ink and watercolor. I've even used thin photocopy paper but generally, I would suggest using a thicker (180lb or 300gsm) cartridge paper or cardstock. Comic book artists use a thick smooth card known as Bristol board for inking over the penciller's lines.
Types Of Ink
India Ink
The most commonly used type of drawing ink is India ink. Also known as Chinese ink or Encre De Chine. India ink is made from burnt organic materials such as bone, oil and soot and mixed with water and a binder such as shellac. India ink may be water soluble or non-water soluble depending on the amount of shellac in it. The label should indicate how water soluble or waterproof it is.
Watercolor Inks
Watercolor inks, like these Dr P.H. Martin's inks show below can be used much like watercolor paints but have a much higher intensity of pigment. They are highly staining and are very light fast. I would recommend using only a porcelain palette for these as they will heavily stain plastic palettes.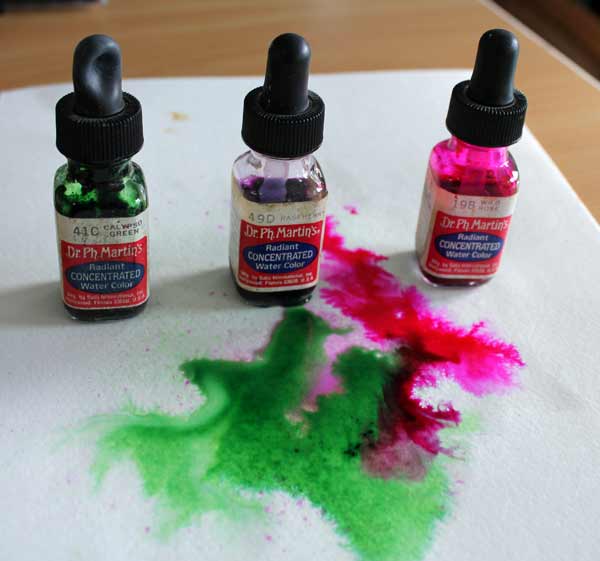 Ink Drawing Techniques
Below, I've illustrated eight commonly used ink drawing techniques. You can pick one and stick with it or use a combination of them to get different texture effects.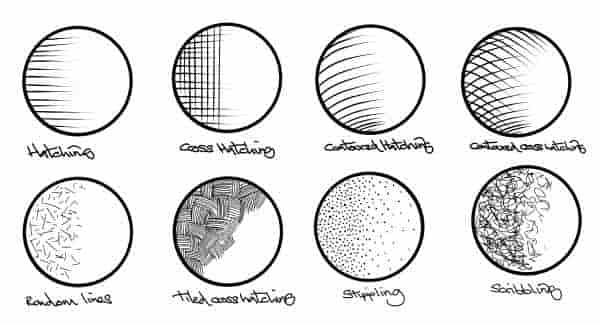 Hatching: Simply a set of parallel lines drawn horizontally or vertically
Cross Hatching: Horizontal and vertical parallel lines.
Contoured hatching: Lines that follow the form of the object.
Contoured cross hatching: Lines follow the form of the object and cross over each other.
Random: Short multi-directional lines.
Tiled or woven cross hatching, Small blocks of cross hatching that resembles a woven fabric, or tiles.
Stippling: Light and dark shading can be achieved by how densely the dots are grouped.
Scribbling. As the name suggests. A series of small tight random marks.
Landscape Sketches With Ink & Watercolor
Ink is a good medium for experimentation and these little landscape vignettes from one of my sketchbooks were inspired by various photographs that I had taken. I was experimenting with different styles of border and ink drawing techniques.
You could take this idea and develop it further to make personalised gifts such as bookmarks or gift tags etc.
I used a set of Uni Pin, fine line marker pens. These are permanent markers, as I don't want them to run after I paint over the top of them.
Four Step Method For Line & Wash Landscapes
Start with a very light pencil drawing.
Outline the drawing in pen
Use short hatched contoured lines to shade in the darks while leaving some areas blank. (I've left my foreground and sky mostly free of ink lines as I'm going to allow the paint to stand on it's own in these areas.
Add color.
Be sure to check out this comprehensive post on painting landscapes in watercolor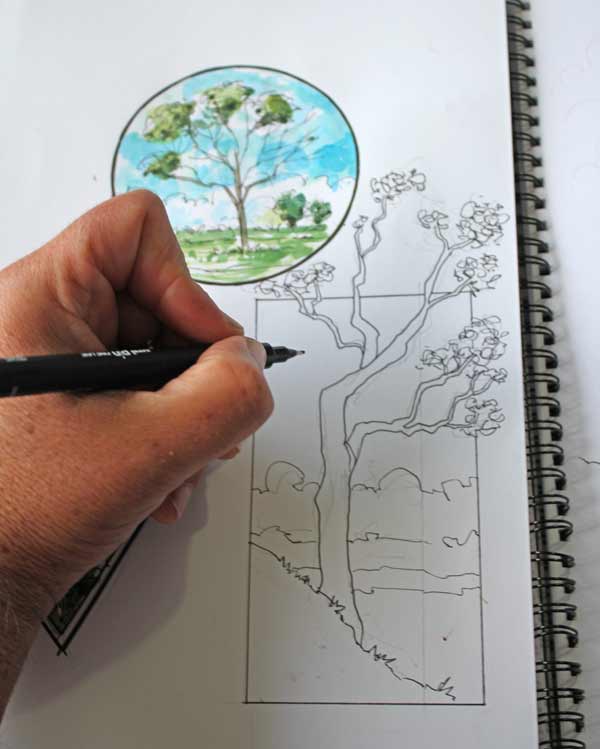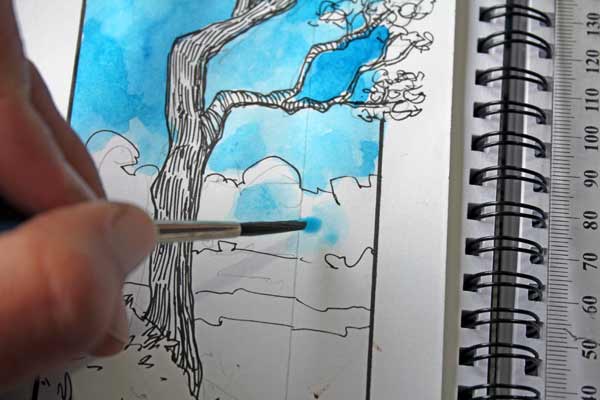 Here is a list of all the products that I've mentioned in this post. Have fun trying out some new techniques.
Product List
Ultramarine Blue: Winsor & Newton | Daniel Smith
New Gamboge: Winsor & Newton | Daniel Smith
Burnt Umber : Winsor & Newton | Daniel Smith
Pens
LAMY Joy Calligraphy Pen Buy From Amazon
Pen Set Fountain Dip Pen with 11 Nibs Buy From Amazon
Rotring Rapidograph 0.35mm Technical Pen Buy From Amazon
Rotring Isograph Technical Drawing Pens Set of 3 Buy From Amazon
Uni Pin Fineliner Drawing Pen – Complete Set of 9 Buy From Amazon
Ink
Ph. Martin's Radiant Concentrated Water Color set Buy From Amazon
Winsor & Newton India Ink Buy From Amazon
Brushes
Princeton Neptune Synthetic Squirrel Round Brush Buy From Amazon
Paper
Arches Watercolor Paper Block, Hot Press, 9″ x 12″, 140 pound Buy from Amazon