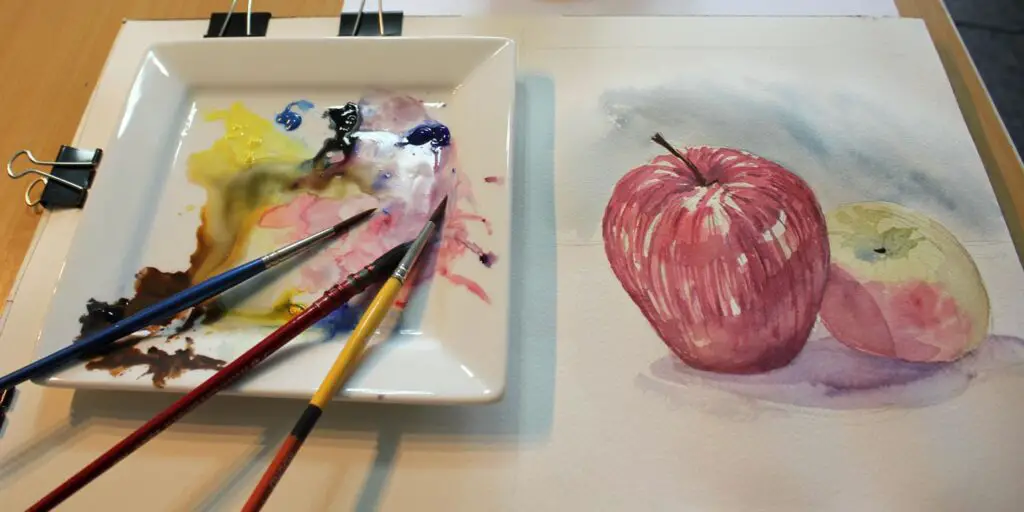 One to One Coaching & Group Sessions Available
If you are looking to take your watercolor painting skills to the next level with a live watercolor Zoom class. There's no substitute for a live lesson where you can get feedback on your work and advice on how to progress.
Advance your watercolor skills with me in a one on one coaching session via Zoom. In these classes we will focus on the key skills of watercolor such as wet in to wet painting, color mixing and composition. We will cover a range of subjects such as landscapes seascapes and abstracts.
Photo reference will be provided where appropriate and I will provide written feedback on your work.
FAQs
How much watercolor painting experience do I need to have?
Unless you tell me otherwise, I approach each class with the assumption that you have little to no watercolor painting experience.
What will I learn in a class?
I'll cover essential watercolor techniques and popular subjects such as seascapes and landscapes, still life etc. If there are other specific topics or issues you'd like me to help with, just let me know!
What if I miss a class?
No problem if you're unable to attend a class for some reason, just let me know and we can reschedule it.
Do I need to install the Zoom software?
You don't need to have Zoom installed on your computer to join in the class. You will receive a link and join the class via your regular web browser.
How much are your one to one coaching sessions?
The price for a 1.5hr coaching session is $75USD
Can you do a group session for a lower price?
Yes, for groups of four, or more, the price is $25USD per person
O.K. I'm in! what do I do next?
Just use the form below to contact me so we can arrange a suitable time and date
Contact Me
Recommended Materials
Pencils: Faber Castell Creative Studio
Paints
Ultramarine Blue: Winsor & Newton | Daniel Smith
Dioxazine Purple: Winsor & Newton | Daniel Smith
New Gamboge: Winsor & Newton | Daniel Smith
Cadmium Yellow Winsor & Newton | Daniel Smith
Burnt Umber : Winsor & Newton | Daniel Smith
Burnt Sienna: Winsor & Newton | Daniel Smith
Paynes Gray: Winsor & Newton | Daniel Smith
Paper
Arches watercolor paper block, cold press, 9″ x 12″, 140 pound Buy from Amazon
Use whatever size you feel comfortable working with but I wouldn't recommend going smaller than A4.
Brushes
There is no need to buy every type of brush at once. You could start with just a round brush and then think about adding others as your style and preferences develop but here are a selection of the brushes I tend to use the most)
Winsor & Newton Series 150 Bamboo Round #6 ( This natural haired brush is great for painting loose foliage and clouds) Buy From Amazon
Rigger Brush (For thin tree branches etc) Buy from Amazon
1″ Hake Brush (Larger natural haired brush, great for skies and foliage) Buy from Amazon
Princeton Synthetic Kolinsky Mop Brush (Similar to a round brush perfect for loose spontaneous brush strokes) Buy from Amazon
Princeton "Snap" 1″ Flat Brush (Ideal for painting large even washes of color, and for painting hills and mountains) Buy from Amazon
Princeton Neptune Round Brush Size 4 ( Small versatile brush for painting details) Buy from Amazon
Princeton Neptune Round Brush Size 8 ( Good all round versatile brush) Buy From Amazon
Miscellaneous
Easy release painters masking tape (Useful for creating white borders around your work) Buy from Amazon
Adjustable desktop easel (Some kind of easel or angled surface is a must have for watercolor painting) Buy From Amazon
Hairdryer (A hairdryer is essential for speeding up the painting process especially if you live in a cooler climate) Buy from Amazon
Water container: No need to buy one of these! I use empty yoghurt pots and jars.
Palette: A ceramic or porcelain palette with plenty of wells is ideal Buy from Amazon
Binder clips (For securing individual sheets of watercolor paper): Buy from Amazon
What's The Right Watercolor Paper For My Watercolor Zoom Class?
I personally love Arches 100% cotton paper 300gsm in 20 sheet blocks The downside is it's expensive. It's partly down to personal preference but if you're just starting out with watercolors it doesn't help at all when you have paper that you're too too terrified to paint on! I know that feeling and it's not conducive to fun and experimentation, so I would personally recommend Bockingford which is a good quality reasonably priced paper.
As a general rule with watercolor paper 100% cotton is better than wood pulp paper but having said that, I have also got good results from Reeves which is a wood pulp paper. It's a bit harder to work with as it tends not to absorb the water so well but definitely usable.
Watercolor Zoom Class Video
Here's a short clip from one of my group watercolor Zoom classes. In this class, I demonstrated some essential watercolor techniques such as flat washes, glazes, and lifting out and then demonstrated how you might use these techniques in an actual painting. In this case, a seascape scene painted from a photograph that I took.
Useful Links
What watercolor brushes do I need?
How to get started with watercolor
Glossary of watercolor Terms
How to mix watercolors like a pro