This isn't a comprehensive list of all the most prominent YouTube channels that teach watercolor. There are no doubt quite a few that I haven't mentioned here.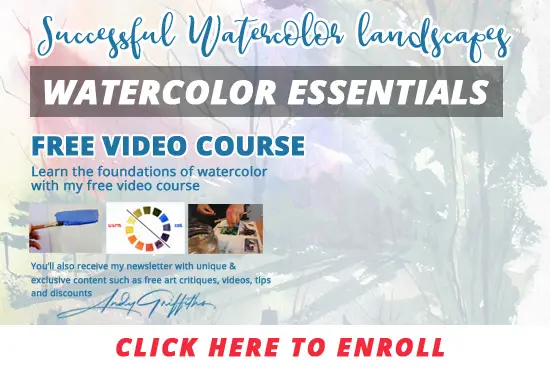 These are my personal favourites though drawn from my own YouTube subscriptions. So here they are, my choices for the best watercolor channels on YouTube in 2020.
Alan Owen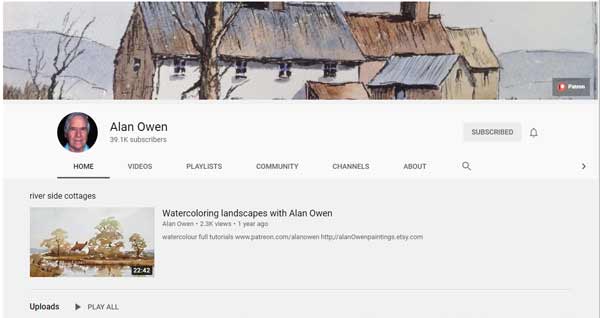 Spending time on Alan's YouTube channel is a bit like like popping round to your Grandad's for a cup of tea and a chat.
Alan has been painting watercolors for decades and I learned a lot from him, especially when I was getting started. His relaxed self-deprecating manner and conversational style is enjoyable and inspiring. It's also mirrored in his casual loose painting style. Alan has many many painting demonstrations on his channel.
Watercolor By Shibasaki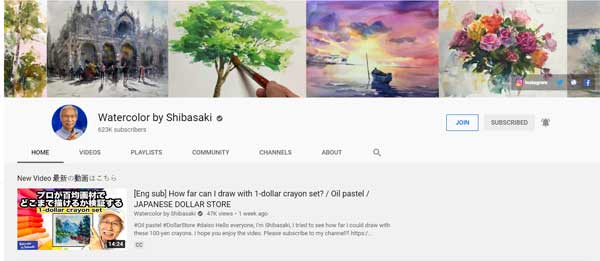 After you've been to visit Alan you might want to go and visit your other Grandad.
This softly spoken smiling Japanese gentleman may just have the biggest watercolor painting channel on YouTube. His brush skills are mesmerizing. He just makes everything look so easy.
My favourite video is where he paints a rose in 5 minutes. I've no idea how he did it, he just waved his brush around a bit and a rose appeared! Us mere mortals can only aspire to be this good but it makes for great viewing.
Andrew Geeson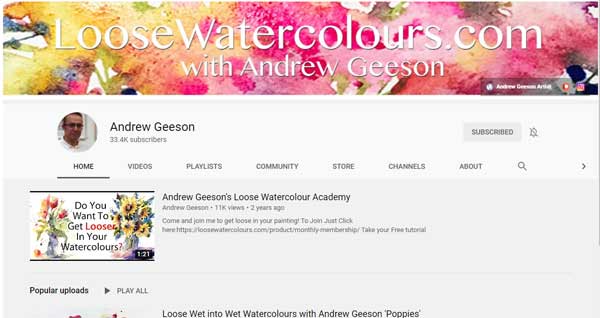 Andrew Geeson's specialty is painting loose colorful florals and landscapes and there are many great examples and demos on his channel.
Andrew Geeson's YouTube Channel
Cafe Watercolor, Eric Yi Lin
Eric was born in Taipei and moved to The U.S. as a teenager. I feel a lot of kinship with Eric, like me, He worked as a commercial artist before deciding that he wanted to create art that people could connect with on a deeper level.
Eric's channel has a wealth of information for the beginner to advanced artist including painting demos, product reviews and practical advice.
Cafe Watercolor YouTube Channel
Cheap Joe's Art Stuff
Cheap Joe's is an art supplies store based in Northern Carolina. This isn't actually a watercolor channel as such, as it covers a lot of different media. I include it here simply because it has so much great content for watercolor artists including demos by well known artists, tips, techniques, product reviews, art theory and more.
Ev Hales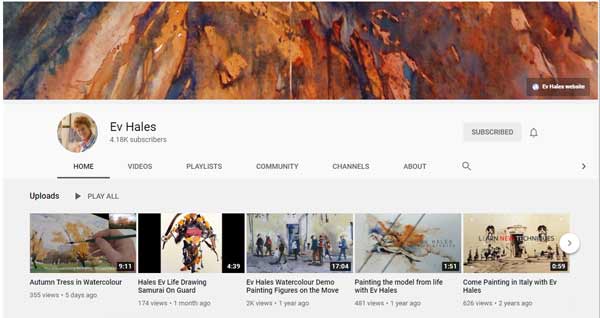 Ev Hales is an Australian artist whose work I greatly admire. Her channel is small but her masterful work deserves to have a much bigger audience
The Mind of Watercolor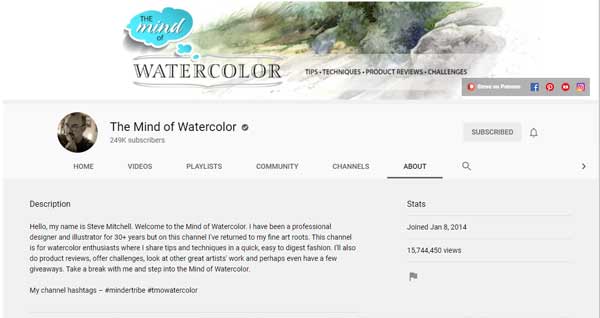 No list of YouTube Watercolor channels would be complete without a mention of Steve Mitchell's Mind of Watercolor channel.
With 250,000 "Minders" subscribed, it's one of the biggest watercolor channel on YouTube and for good reason. Steve is a great artist with an amiable presentation style. His channel is packed with information for the aspiring and advanced watercolor artist. If you're not subscribed to this channel already then you definitely should be!
The Mind Of Watercolor YouTube Channel
Harusaki Watercolor
I first became familiar with the work of Kanta Harusaki through seeing his work posted on Pinterest. Kanta's work ranges from experimental dreamlike impressionism to conventional representational landscapes and seascapes. His channel which he shares with his wife Yoko mainly consists of wordless demonstration paintings. That's not a bad thing, as there is so much to be learned here from pure observation.
You'll want to watch these videos again and again to try and understand exactly how the magic works and it does seem like magic.
Harusaki Watercolor YouTube Channel
Following The White Rabbit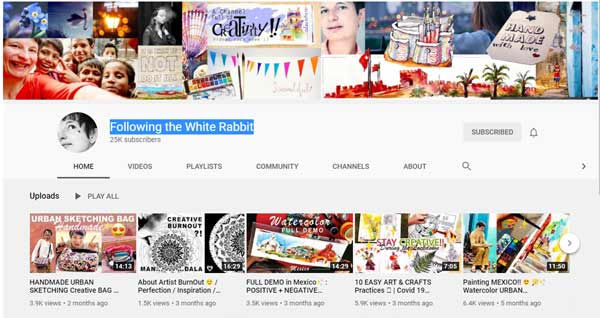 Anne Laure is a painter from Brittany in France. I love her enthusiastic style and exuberant colorful work. Her channel has a strong focus on Urban Sketching, painting demonstrations and exercises to inspire creativity.
Following The White Rabbit YouTube Channel

Gary Tucker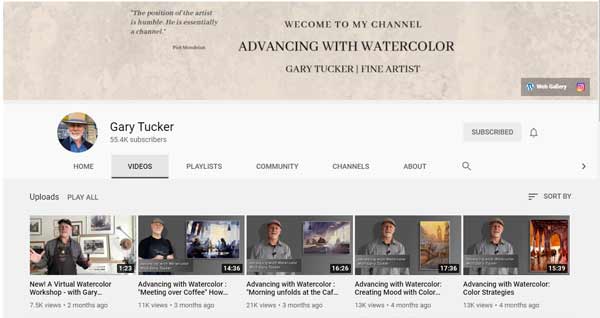 Gary Tucker is Boston based Watercolor artist who shares his videos related to class projects for current students attending his weekly watercolor classes in Boston.

Gary's channel has a wealth of information for the intermediate to advanced artist but even if you're a complete novice it's wealth worth becoming a subscriber.

Gary Tucker's YouTube Channel
Grant Fuller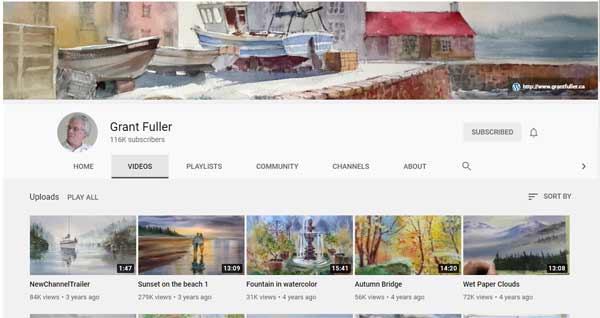 Grant Fuller is a professional artist and author. His channel hasn't been updated in a few years but there is plenty there to delve into. Well worth a look.
Grant Fuller's YouTube Channel
Update – Sadly Grant Fuller passed away from cancer in 2016 at the age of 73 but as of writing his YouTube channel is still up.
Patrick Ley-Greaves Pure Watercolour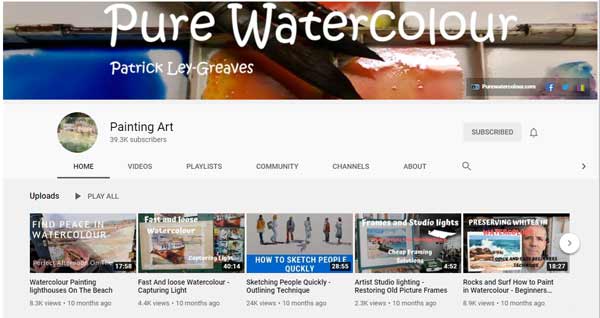 Patrick's channel is another that hasn't seen any new updates for a while, which is a shame as this channel was one of my absolute favourites. Patrick is full of gentle encouragement and inspiring work, hopefully, he's just taking a break and will get back to it at some point.
Update – Patrick's has rebranded his channel which is now called "Painting Art" and he has expanded it to include oil painting
Peter Sheeler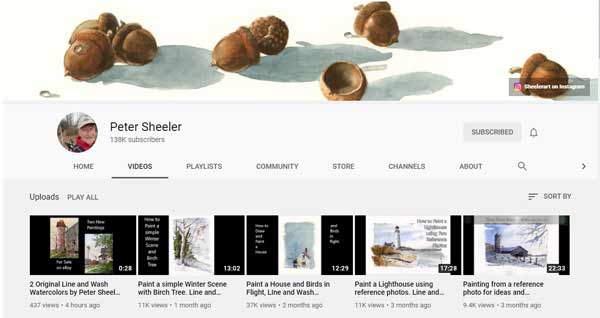 There aren't many watercolor channels that talk about line and wash techniques but Peter Sheeler's is one of the few that does. His beautiful linework and composition are indicative of his background as a professional illustrator.
Peter Sheeler's YouTube Channel
Tim Wilmot
Tim Wilmot's channel teaches watercolor painting concepts through dozens of in-depth practical demonstrations on a wide range of subjects. Landscape, seascape, urban, Tim does it all masterfully and with plenty of helpful commentary. Also, his work is absolutely stunning. Essential watching.
Watercolor Misfit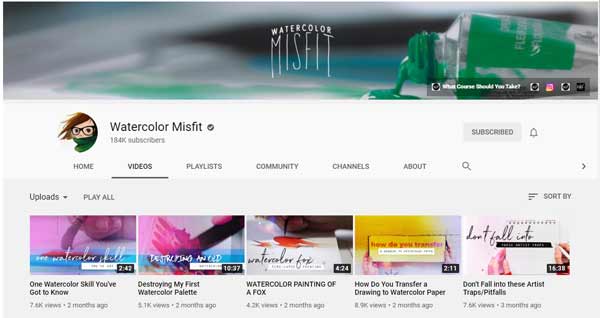 Carrie Luc A.K.A. Watercolor Misfit has an appealing cute, cartoony style and a wonderful design sensibility. She makes beautifully crafted instructional videos that deservedly draw a large YouTube viewership.

Watercolor Misfit YouTube Channel
Michael Solovyev
Michael is a Russian artist currently living in Montreal where he teaches at the prestigious Syn Studio art school he is a published author and a brand ambassador for Daniel Smith watercolor paints.
I've only recently discovered Michael's channel but it has very quickly become required viewing for me. His seemingly effortless paintings speak to his mastery of the medium.
Michael's channel has many wonderful demonstrations of his work on a whole range of subjects. There is a lot to learn from this man and I look forward to exploring his channel a lot more.
Michael Solovyev's YouTube Channel
Grahame Booth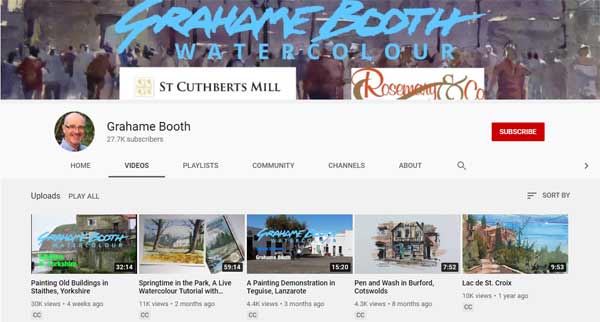 Grahame Booth is an Irish watercolor painter. His YouTube channel is one of those to which I immediately go to whenever he uploads a new video.
There aren't many videos on his channel but the ones that are up there are very informative and showcase his stunning work.
Grahame Booth's YouTube Channel
Art By Paul Clark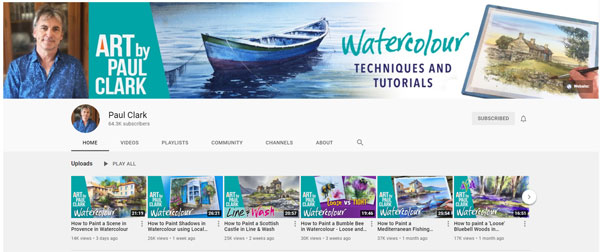 Paul Clark is a British illustrator who has been teaching watercolor painting and drawing techniques to adult learners for nearly 30 years.

A reader of this blog tipped me off about Paul and I'm glad he did. Paul paints a wide range of watercolor subjects and has a cheerful informal style of teaching that I'm sure you'll enjoy watching
Louise De Masi
Louise is a professional watercolor artist from Australia. She paints in a strong realistic style. The main subjects she likes to paint are animals and florals.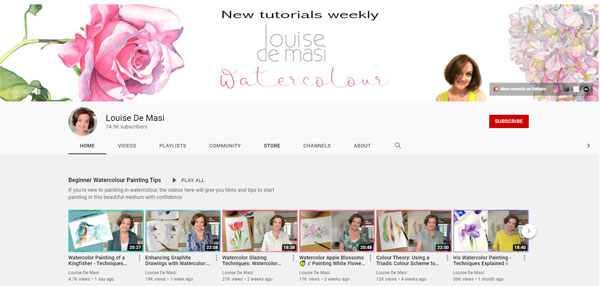 Louise De Masi's YouTube Channel
Solving Watercolour
Last and hopefully not least. I couldn't leave without giving a plug to my own small but growing channel. SolvingWatercolour. I hope you'll drop by and subscribe as I have lots of plans to expand the scope of the channel in the coming months. So I hope to see you there soon!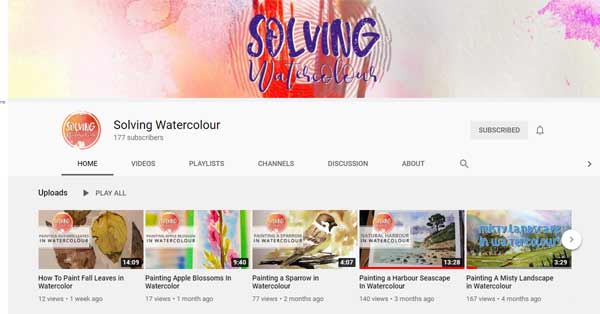 Solving Watercolour YouTube Channel
So those are my recommendations for the best YouTube channels that I have found to be the most inspiring and useful on my journey so far, I hope that they will inspire you too.
If you feel that there are other channels that deserve a mention. Please let me know about them.