Have you been struggling to create the kinds of watercolor landscapes you see in your mind's eye?
Has your enthusiasm fizzled out in frustration?
Have you watched lots of YouTube videos but find that it just doesn't seem to click for you?
Do you feel like you're wasting money on expensive art supplies?
Are you fed up with courses that only show you how to paint one specific scene and nothing else?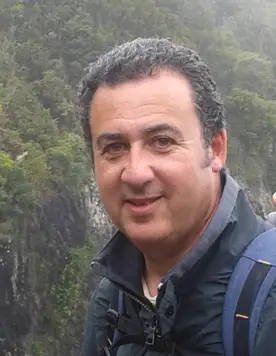 Hi, my name is Andy Griffiths, I've been a feature film animator, freelance illustrator and teaching artist for over 30 years. I began this website because I realized that there was a lack of information out there for budding watercolor painters.
It has been said that watercolor is the most difficult medium to master. The truth is, every painting medium has it's own unique set of challenges.

Watercolor painting has challenges but it also has amazing advantages too. Understanding how to overcome the challenges and use the advantages is the key.
"Successful Watercolor Landscapes will give you the keys to unlock any scene that you ever wanted to paint."
What's In The Course?
18 Video Lessons (3hrs total) plus pdf worksheets & Reference photos
An overview of the necessary equipment and materials you need to get started
Essential painting techniques
How to create beautiful paintings with simple but effective color schemes
Preparation and planning essentials to set yourself up for success
How to free yourself to paint in a more loose & experimental way
How to Paint Skies and Trees
Real time landscape painting demos with step by step explanations
How to turn average photos into great paintings
Understanding and applying the rules of composition
Beginner through to advanced painting techniques
Access to me personally via email if you need help or advice
"Love your work …you are such a great art teacher….using explicit examples and descriptions. And I love the way you paint."

S. Vanderwood, British Columbia
I have just watched advanced watercolour course….and LOVED it…I am an old dude but the course was very invaluable..and i will watch more(e.g. i have never seen foliage painted the all prima method and found it brilliant)…i am sure these courses will add years on my life…cheers from 'across the ditch'.

W. Batchelor, Australia
Found your homepage and bought Successful Watercolour Landscapes… Thank you for such generous communication and letting others being part of your process. I am overwhelmed by your real helpful examples

R. Meyer, Germany
Learn to mix realistic greens + printable swatch template pdf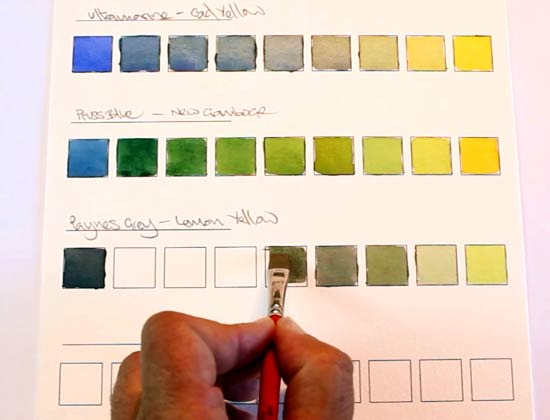 How To Paint Skies
How To Paint Trees & Foliage
Loose landscape painting techniques.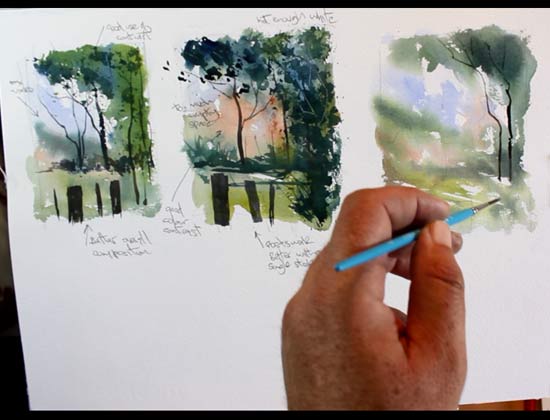 River and Bridge
Not ready to buy yet? Enroll in my free course first